THE FLORIDA BOYS QUARTET - Page 1
You can see by the amount of albums I have that the Florida Boys are one of my favorite groups. I spread the albums over two pages so they will load quicker. The first page covers my albums from 1959 to 1969. The second page covers albums from the 1970's and 1980's. You can get to either page by clicking the friendly bear at the left, or by using the link at the bottom of the page.
The Florida Boys Quartet was formed in 1947 by J. G. Whitfield. They became very popular in the late 1950's and early 1960's after assembling one of the finest quartets ever, including Les Beasley (lead), Coy Cook (tenor), Glen Allred (baritone), Billy Todd (bass), and Derrell Stewart (piano). They were one of the first Southern Gospel groups to have a television program. Tenors and basses have changed some over the years, but Les, Glen, and Derrell hung in there. Regretfully, the Florida Boys retired as a group in 2007. The Florida Boys are among the all time greats.

THE FLORIDA BOYS SING YOUR FAVORITES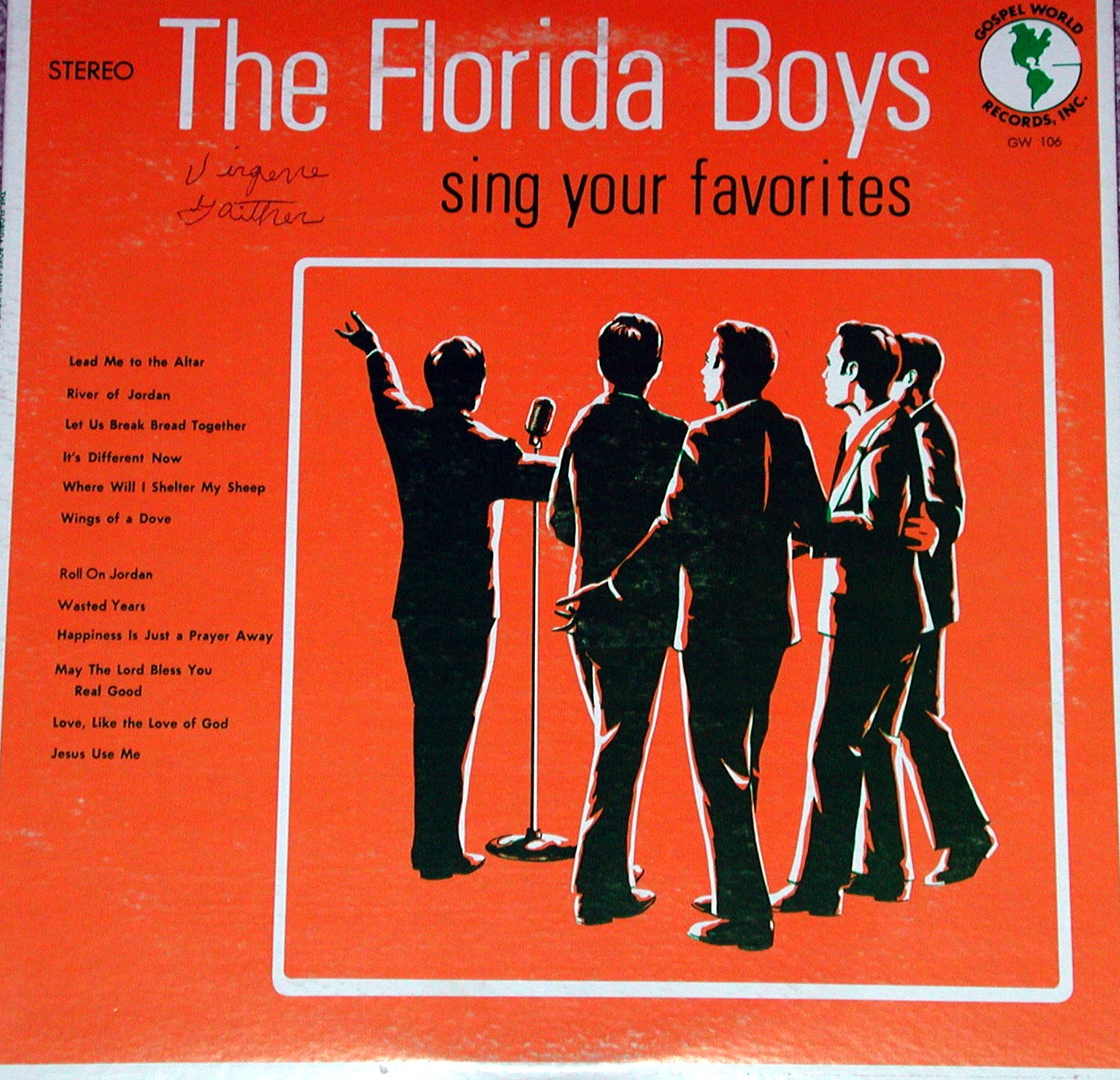 | | | | | |
| --- | --- | --- | --- | --- |
| Album | Cover | Quantity | Price | Comments |
| NM | EX | 1 | $15 | Scarce Gospel World Records album. Name written on cover. Album near mint |

THE FLORIDA BOYS - 12th ANNIVERSARY ALBUM (1959)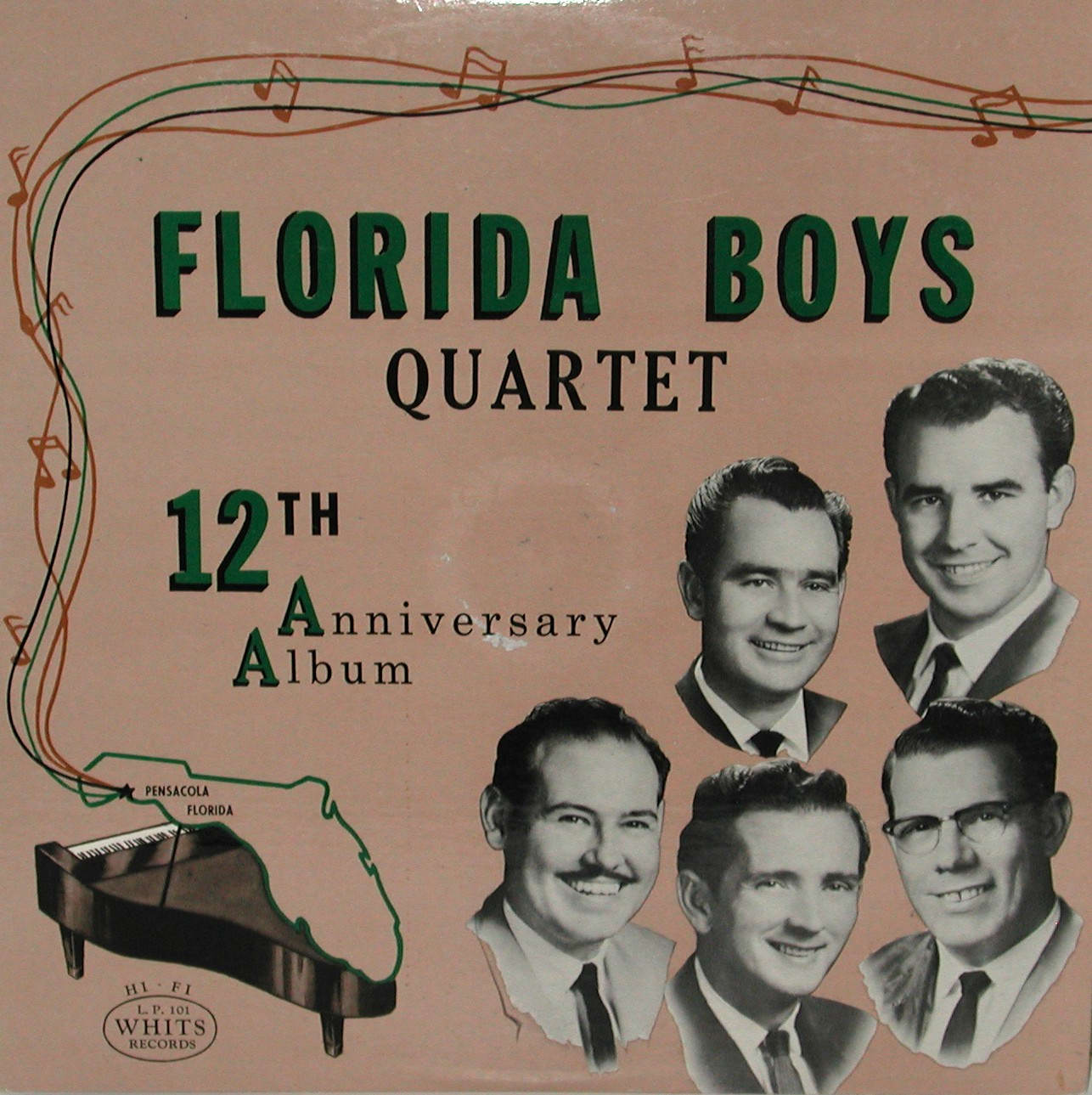 | | | | | |
| --- | --- | --- | --- | --- |
| Album | Cover | Quantity | Price | Comments |
| EX+ | EX- | 1 | $25 | Scarce album |
| EX+ | VG+ | 1 | $20 | Some ringwear - seam split |
| EX | VG+ | 1 | $18 | |

THE FLORIDA BOYS - 13th ANNIVERSARY ALBUM (1960)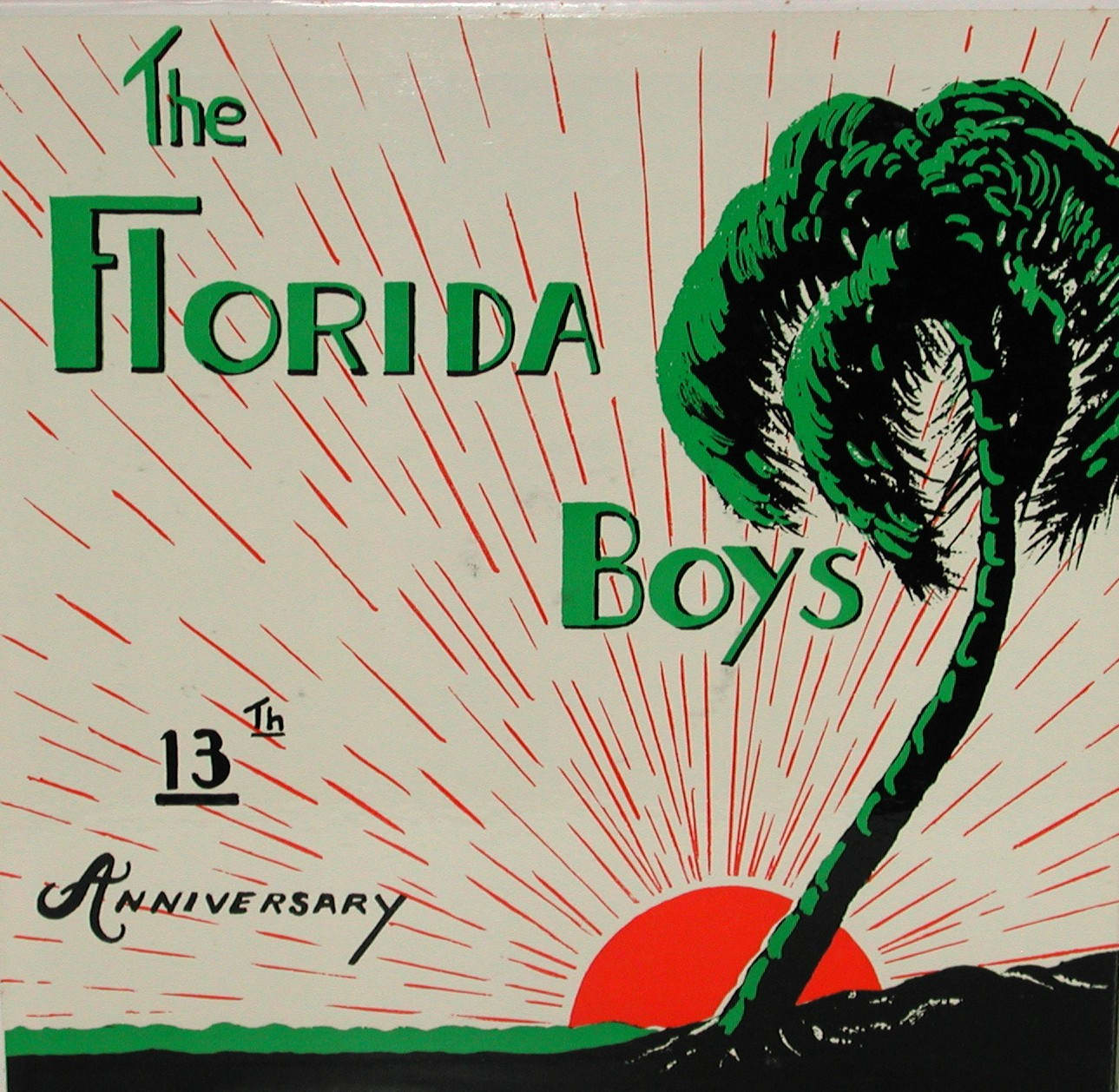 | | | | | |
| --- | --- | --- | --- | --- |
| Album | Cover | Quantity | Price | Comments |
| NM | NM | 1 | $35 | Very hard to find album |
| EX+ | EX+ | 1 | $20 | |
| VG+ | VG | 1 | $10 | Album is EX but has flaw on 1st song |
| VG | VG | 1 | $10 | |

THE FLORIDA BOYS - IN NASHVILLE (1960)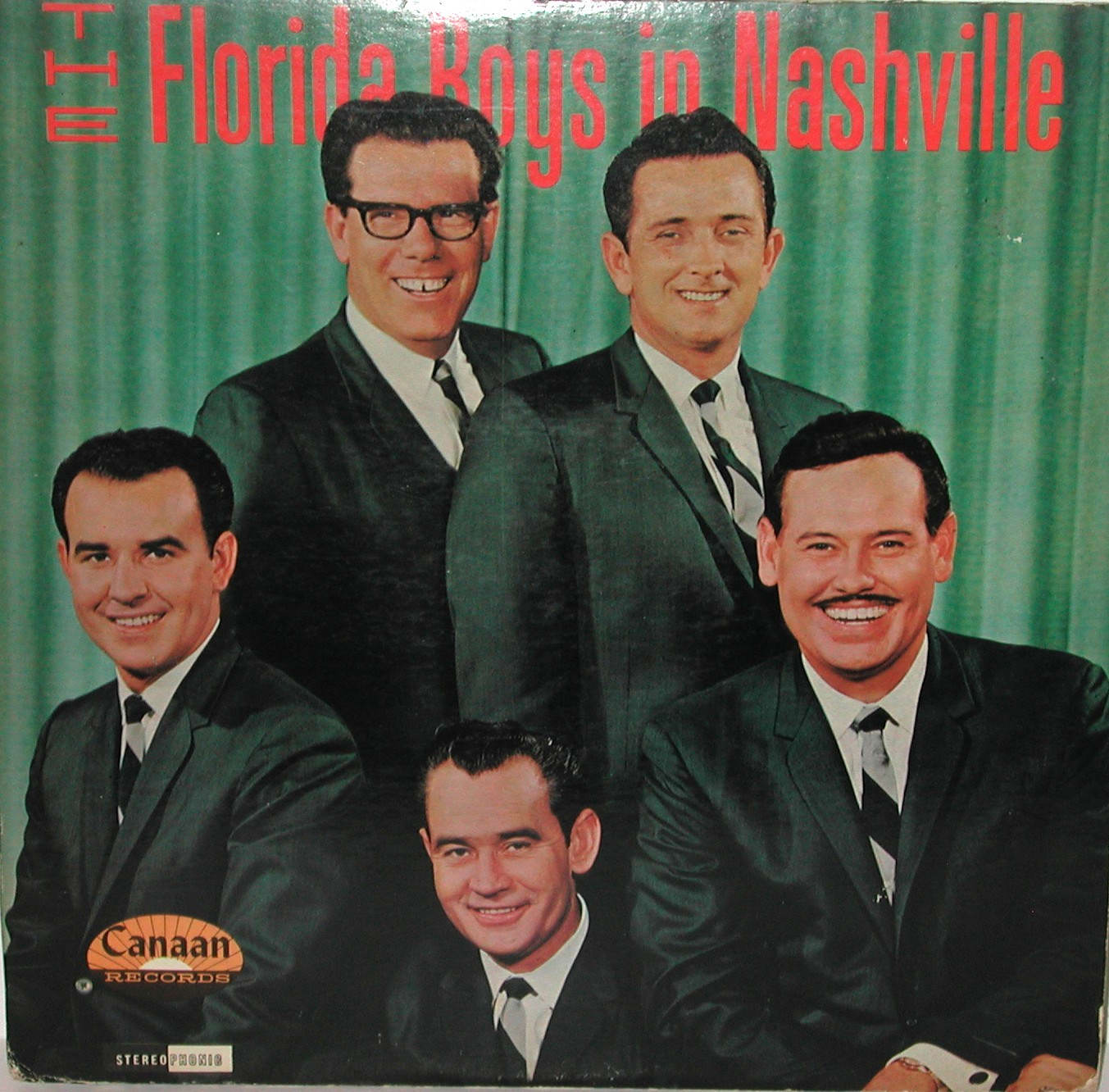 | | | | | |
| --- | --- | --- | --- | --- |
| Album | Cover | Quantity | Price | Comments |
| NM | NM | 1 | $30 | Still in shrink wrap |
| EX | EX+ | 1 | $25 | Still has shrink wrap |
| VG | VG | 2 | $10 | |

THE GOLDEN HITS OF THE FLORIDA BOYS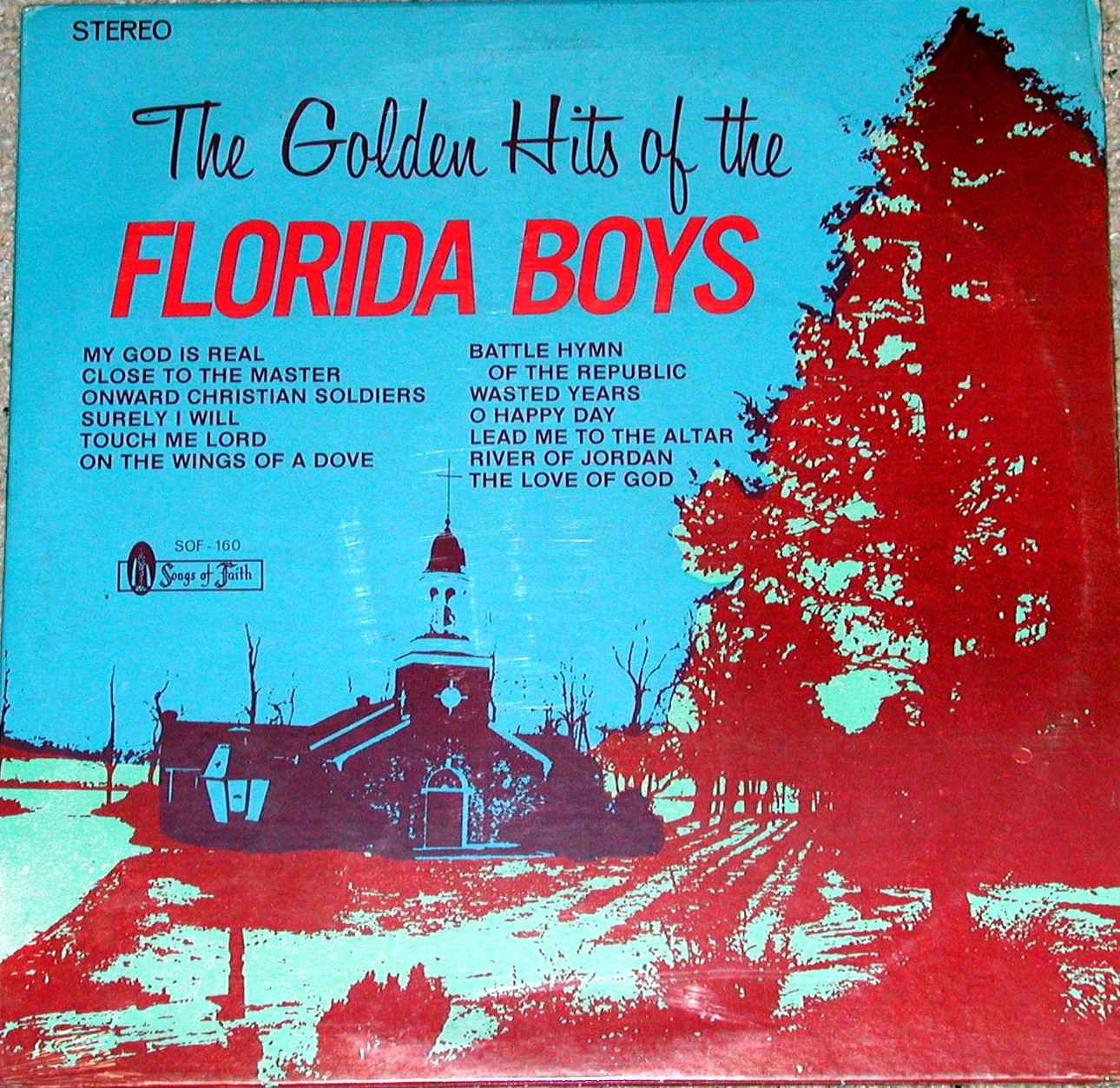 | | | | | |
| --- | --- | --- | --- | --- |
| Album | Cover | Quantity | Price | Comments |
| M/SS | M/SS | 1 | $25 | MINT, SEALED, UNPLAYED |

THE FLORIDA BOYS QUARTET - UP IN THE SKY
| | | | | |
| --- | --- | --- | --- | --- |
| Album | Cover | Quantity | Price | Comments |
| EX | VG++ | 1 | $40 | AUTOGRAPHED ON BACK BY BILLY TODD (see photo above right) |
| M/SS | M/SS | 3 | $30 | MINT, SEALED, UNPLAYED |
| M/SS | NM/SS | 1 | $25 | SEALED & UNPLAYED, loose shrink wrap |
| EX | EX+ | 1 | $18 | still has shrink wrap |

THE FLORIDA BOYS - GOSPEL TREASURES (1962)
| | | | | |
| --- | --- | --- | --- | --- |
| Album | Cover | Quantity | Price | Comments |
| M/SS | NM/SS | 1 | $30 | MINT, SEALED, UNPLAYED |

THE FLORIDA BOYS - SINGING THROUGH LIFE (1962)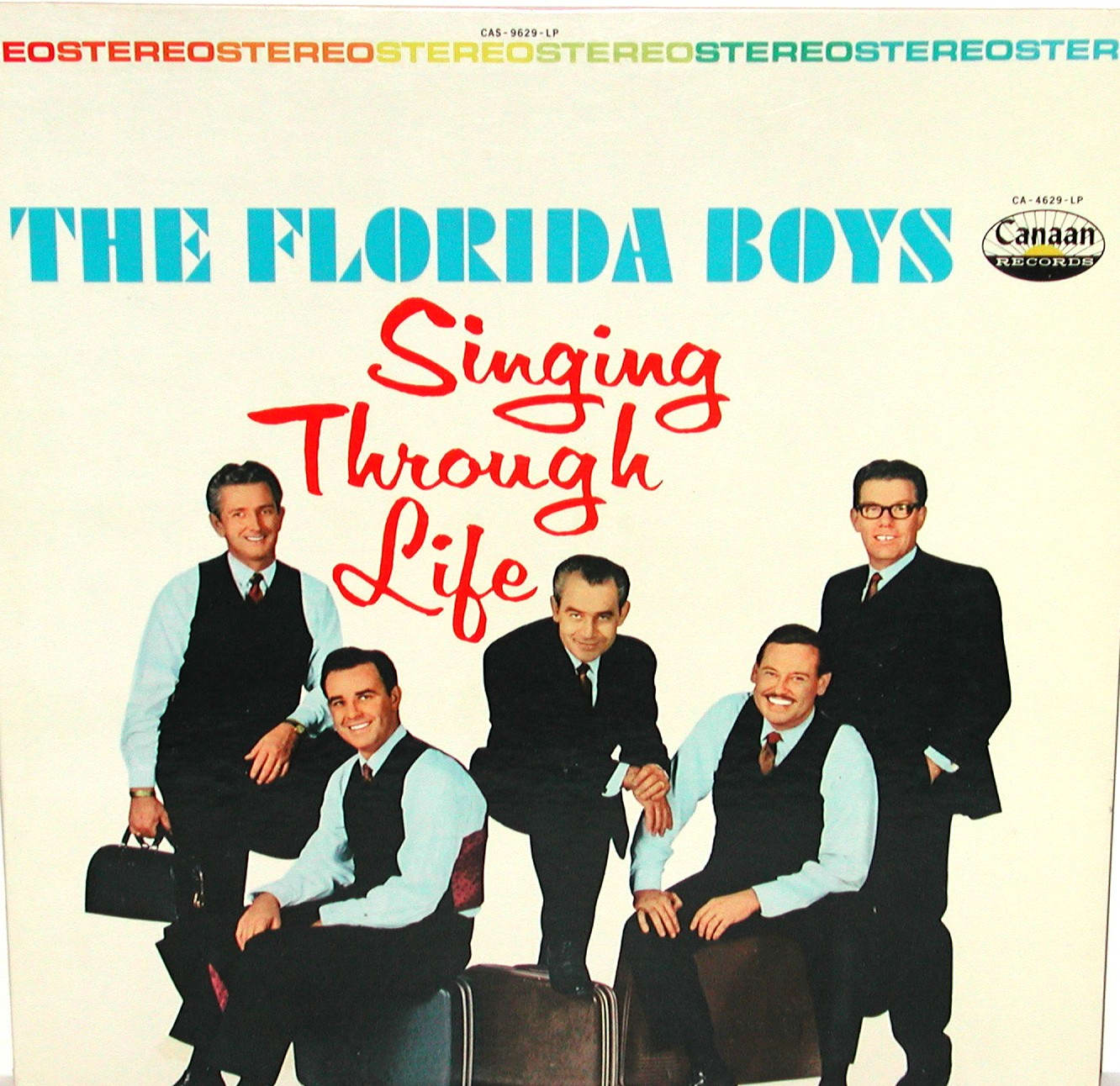 | | | | | |
| --- | --- | --- | --- | --- |
| Album | Cover | Quantity | Price | Comments |
| EX | EX+ | 1 | $20 | Hard to find album |
| VG+ | VG+ | 1 | $12 | |

THE FLORIDA BOYS - UP TEMPO (1963)
| | | | | |
| --- | --- | --- | --- | --- |
| Album | Cover | Quantity | Price | Comments |
| EX+ | NM | 1 | $30 | |

THE FLORIDA BOYS QUARTET - TV FAVORITES (SOF Label)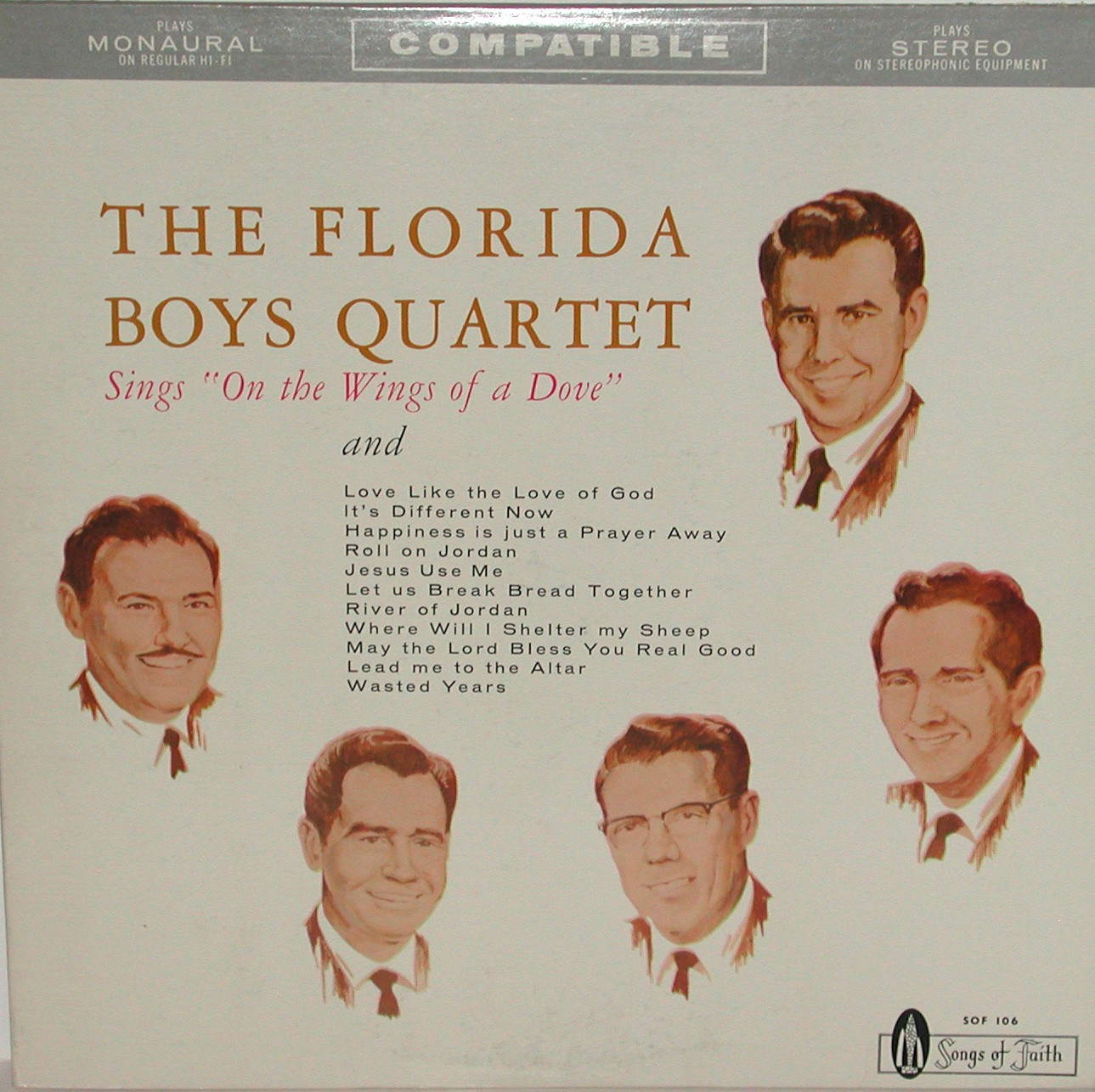 | | | | | |
| --- | --- | --- | --- | --- |
| Album | Cover | Quantity | Price | Comments |
| EX+ | EX | 1 | $15 | |

FLORIDA BOYS - TV FAVORITES (BIG GOSPEL Label)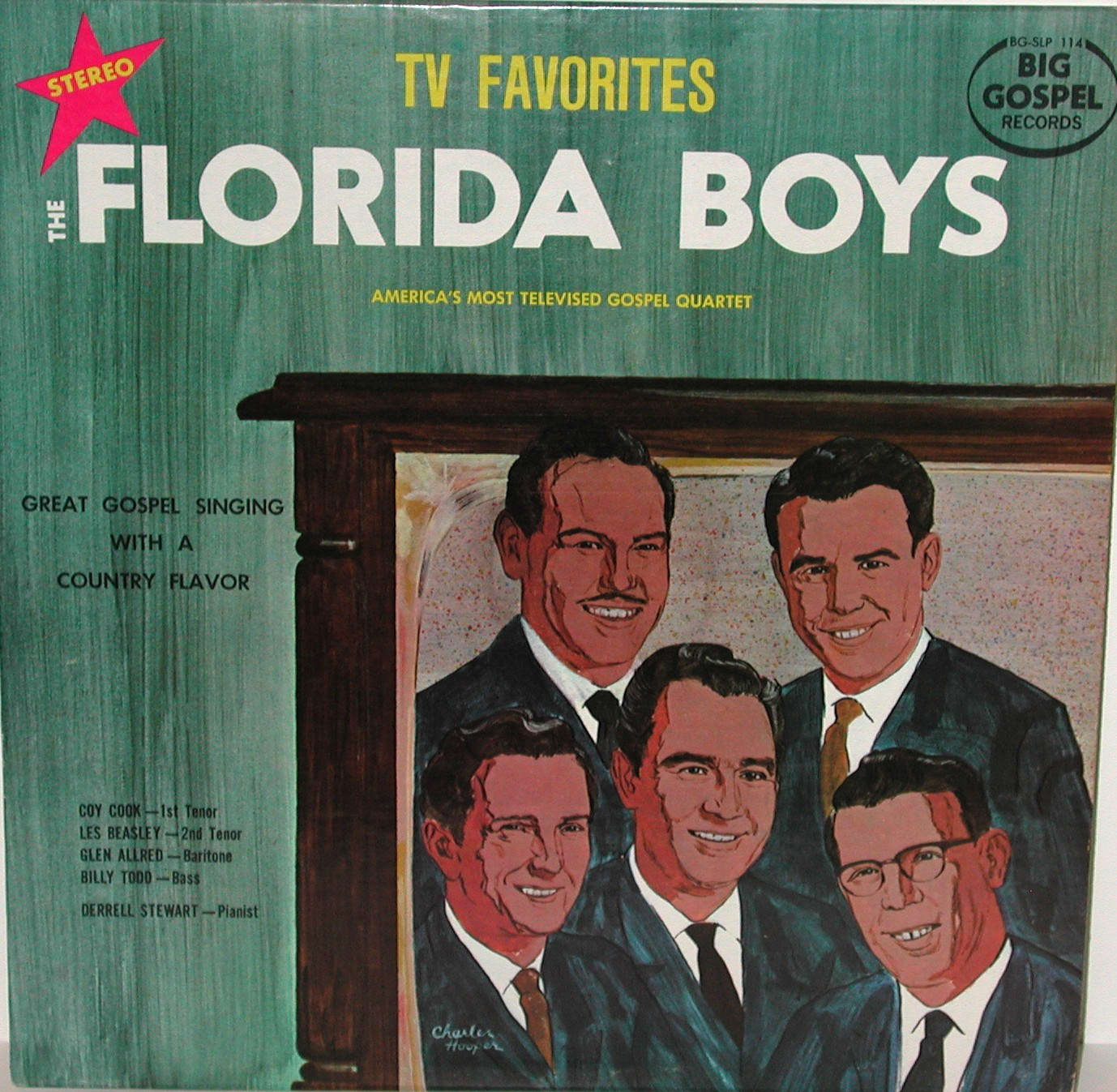 | | | | | |
| --- | --- | --- | --- | --- |
| Album | Cover | Quantity | Price | Comments |
| M/SS | M/SS | 1 | $25 | MINT - SEALED - UNPLAYED |
| VG+ | EX+ | 1 | $15 | Hard to find album |

THE BEST OF THE FLORIDA BOYS - (GOSPEL TIME Reissue)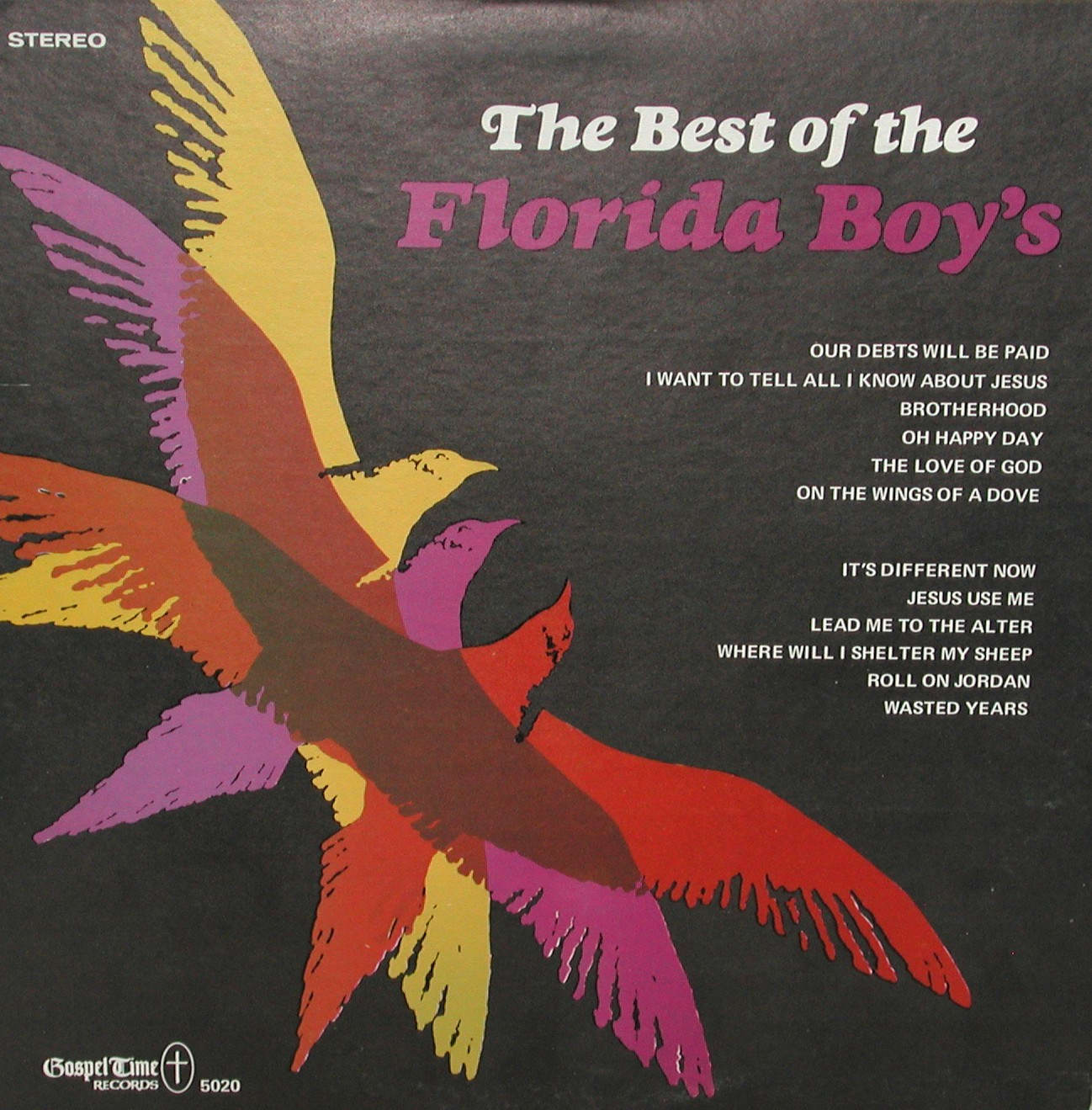 | | | | | |
| --- | --- | --- | --- | --- |
| Album | Cover | Quantity | Price | Comments |
| M/SS | NM/SS | 1 | $25 | MINT, SEALED, UNPLAYED (Rare Green Ink cover) |

BUDDY LILES - SINGS YOUR FAVORITE SOLOS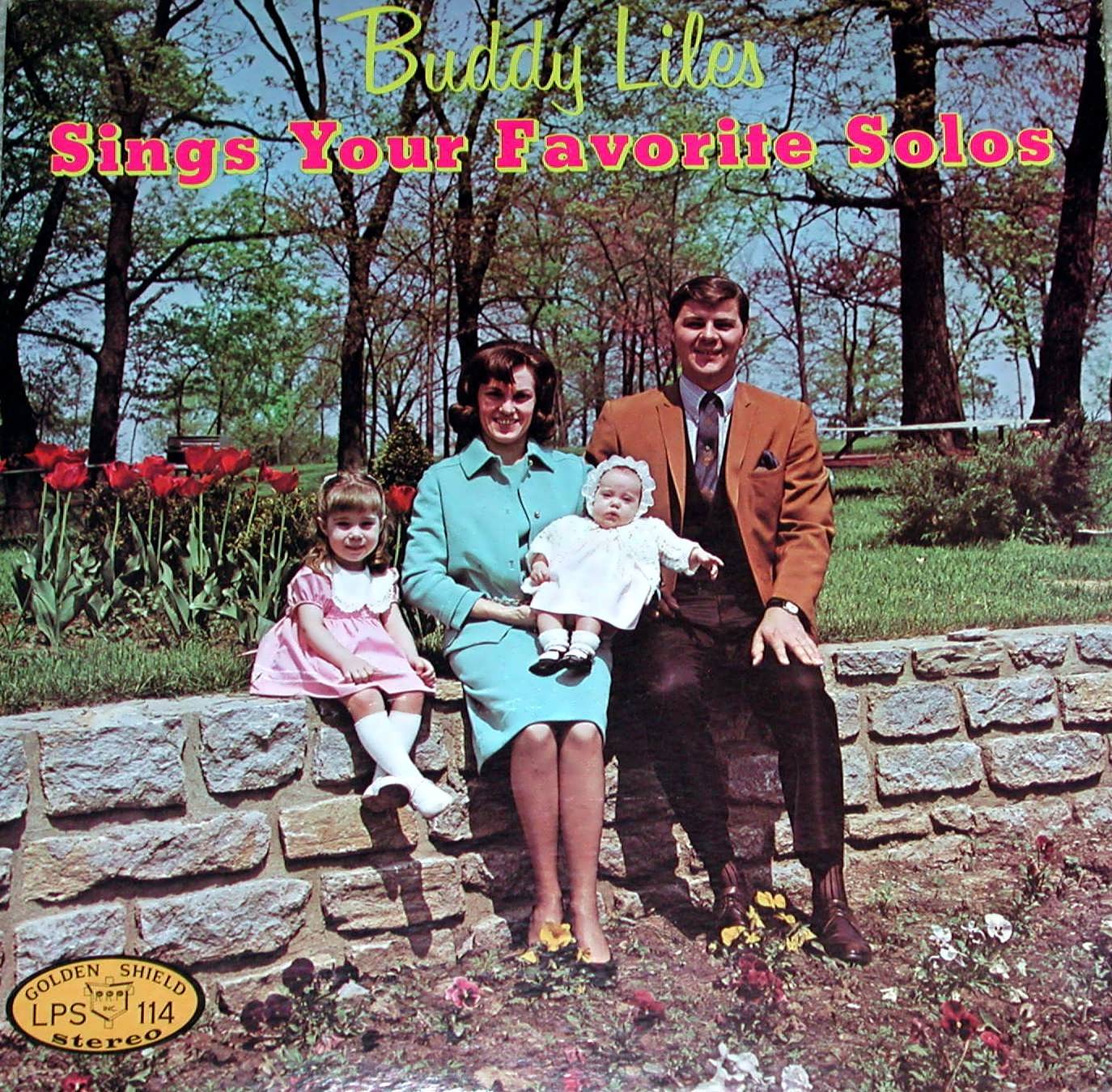 | | | | | |
| --- | --- | --- | --- | --- |
| Album | Cover | Quantity | Price | Comments |
| NM | EX+ | 1 | $30 | Very RARE album. Late 60's vintage. Golden Shield record label. |